5 Awesome Adventure Games For Your Mac
In all honesty the Mac has not had a great selection of games to choose from for a long time now. The odd release of a major title may have been compatible with OS X but apart from this glimmer of hope, there has not been much light shone upon the Mac as a gaming platform. However, when the Mac App Store was released at the beginning of this year, many game developers began to release games specifically designed to be played on a Mac. Although some games may also run on Windows, they have been designed to be played on a Mac and the featured games in this post are no exception. Enjoy as we reveal 5 great adventure games for you to play right on your Mac.
Machinarium is a great-looking adventure game for your Mac. The story line revolves around a small robot who it trying to find his counterpart. You follow the robot along its path, overcoming obstacles and enemies along the way. Even though the game is not available in HD it will still be know as one of the greatest point and click adventure games ever to be released for Mac, with it unique puzzles combined with very pretty graphics, which feel old and new at the same time.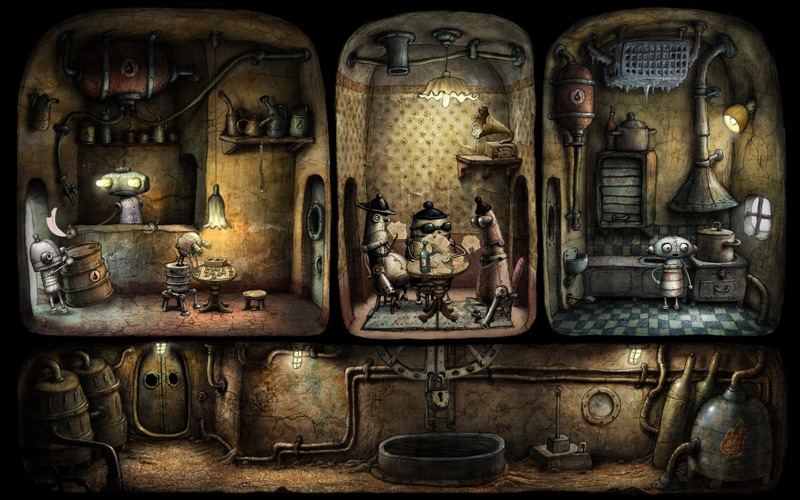 Trine is a beautiful fantasy action platformer with a fairytale-like atmosphere, following the journey of three heroes; a Wizard, a Knight and a Thief. You are put straight into a quest to save the kingdom from evil. The gameplay is based on fully interactive physics and each character's different abilities and tactics can be used to invent new ways to battle an army of undead and overcome obstacles, and restore the balance of the world. This is a great 2D platformer and although it may technically be an action game, it sure feels like you are on an adventure.
The Tiny Bang Story is set on the fictitious world, Tiny Planet. When an asteroid hits, its fragile world breaks into pieces. You'll have to recover its lost beauty and help the population of Tiny Planet. Through five chapters, you'll solve numerous puzzles and fix imaginative machines in a point & click environment. With no in-game text or popup windows The Tiny Bang Story will surely deliver something that you have yet to experience. With great looking visuals and encapsulating gameplay its well worth a go!
Samorost 2 is the eagerly awaited next installment in the series from Jakub and his small team over at Amanita Design. The sequel to the free in browser game takes you back to the enchanting world of the space gnome, and begins dramatically with aliens landing in his backyard one evening, stealing fruits from his tree and then abducting his faithful dog after he tries to alert his master. Another beautifully illustrated world to explore from the creators of Machinarium.